(Essay to accompany The Castle journal project)
Terence Gower
The photographs on the previous pages show the home  of the Mexican architect Francisco Artigas, designed for himself at the end of his life. The house was  begun in 1968 and completed in 1970. The text is an extract from a five hour interview of Artigas conducted by the American architecture critic Esther McCoy, whose papers are kept by the Archives of American Art. McCoy was a regular critic for the Los Angeles publication Art and Architecture and was instrumental to the planning and dissemination of the Case Study House program launched by that magazine in the late 1940s. She was a staunch advocate of modernist architectural ideology and a guiding force for the establishment of those ideas on the West Coast. McCoy also traveled frequently to Mexico and Latin America, reporting back on the integration and sophistication of the modernist movement in those places.
Mexico was fertile ground for  modernist architecture in the 1940s, '50s, and '60s. While the U.S. was adhering to a Soviet-style official architecture, Mexico—looking to express a progressive new identity after it's recent revolution—had gone entirely modern. Starting in the late 1940s, public building projects—government buildings, schools, hospitals and public housing—were designed according to the logical economy of a stripped-down functionalism. Interestingly, this desire for an expression of modernity extended beyond public architecture to the realm of the wealthy and powerful. Francisco Artigas was an architect who was happy to design modernist private villas and luxury hotels for this sector.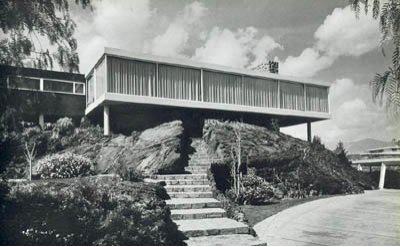 The majority of Artigas' projects were houses built for clients in Mexico City's most exclusive suburb, San Angel del Pedregal, laid out on the south edge of the city by Mexico's great real estate speculator, Luis Barragán. These photogenic masterpieces (for instance, Casa Gómez, 1953, pictured above) made Artigas an icon of Mexican modernism. Esther McCoy—like this artist —was an admirer of these houses and their creator. Pedregal is a lava landscape, a brutal and beautiful setting for residential architecture. The introduction of Artigas' man-made slabs into this landscape creates a very pleasurable visual contrast. Esther McCoy was so taken with Artigas' Pedregal houses she wrote the introduction to the architect's enormous 1972 monograph (Curiously no reference is made to this book in her published bibliographies.)
Esther McCoy's interview takes place just after Francisco Artigas has shifted his architectural style from modernism to a kind of fantasy historicism, evident in the pictures of his own house on the preceding pages. This shift was a capricious one, not unlike the modernist-historicist shift in "styles" which occurred to architects in the U.S. several years later and became known as "Postmodernism".  McCoy the modernist spends much time searching for a justification for this shift during her interview with Artigas, perhaps one of the first twentieth-century examples of a modernist critic or architect being faced with a New Architecture which isn't based on a grand theory. In Artigas' new work there is no manifesto, no justification, no larger plan based on a new concept of social engineering: The architect was simply bored with modernism. A kind of crisis registers in McCoy's voice as Artigas calmly discusses his principal inspiration for the new house: the Robin Hood movies he saw as a boy. He confesses that since boyhood he had always wanted to live in Robin Hood's castle, and now at last, he could turn his dream into reality.
Francisco Artigas was born in 1916. When he was six years old, a dashing Douglas Fairbanks hit the screens as the protagonist in the costly Hollywood extravaganza Robin Hood. Sixteen years later Hollywood released a second Robin Hood film, this time with Errol Flynn opposite Olivia de Havilland's Lady Marian. It's possible that both films fanned the flames of Artigas' Robin Hood obsession, and both are interchangeable in a way. In both films, all nature scenes (Robin Hood's adventures in Sherwood Forest making up the bulk of the action) were filmed in parks and country clubs in the Los Angeles area. All interior scenes were filmed in a Hollywood studio, mostly scenes of revelry or pageantry in the case of the earlier film or interminable sword-fights in the later. All these scenes take place in fake castle interiors or courtyards.
The design of the castle in the films is allegedly based on Nottingham Castle, the real site of the Robin Hood legend. The aesthetic provenance of Artigas' castle is therefore an English castle as interpreted by a Hollywood set designer, later filtered through the imagination of a young boy. I should mention that this is in no way an unusual inspiration for a Mexican house. In the 1930s, certain of Mexico City's architects-to-the-elite sought inspiration in Hollywood. While most architects were exploring art deco forms, these architects were looking at the Beverly Hills houses of Hollywood stars, built in what is known in the United States as "Mission Style". These mansions incorporated the decorative details of sixteenth- and seventeenth-century Mexican Colonial missions. This elaborate Spanish Colonial style, practiced by Hollywood set decorators free-lancing as architects, was re-imported to Mexico, where it became known as "Hollywood Baroque." All of this is a testament to the density and richness of Mexican culture, seemingly able to absorb and digest just about every cultural assault without altering its own character.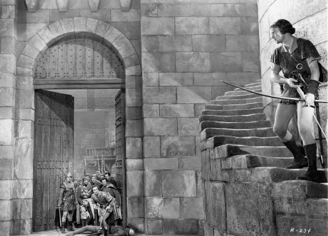 The Adventures of Robin Hood, 1938
But why would Artigas choose to build a stone castle so late in his life and career? My hypothesis is that he built it because he was able to build it. What I did not mention in my introduction to this essay was that the technological aspects of modernism never really flourished in Mexico, a country with a very large pool of skilled building labor which made the mechanization of the building trade redundant. For example, in the 1950s it probably would have been less expensive to have workmen hand-craft an I-beam out of standard steel profiles than to fabricate it through an industrial process. The spectacular concrete architecture of Felix Candela was probably only possible in Mexico, hand-crafted and tested by an army of workers. With this huge pool of artisan labor, wealthy patrons in Mexico have been able to afford to build any structure out of any material, including castles of solid stone. In Mexico, Artigas had the luxury of rejecting the apparent economy of modern building technology and indulge his childhood fantasies to the fullest. He could incorporate hand-cut cantera stone walls, hand-made tile floors and roofs and hand-carved wooden beams. It is just possible that rejecting Modern building technology could have been the easier route to take.
What Francisco Artigas' project demonstrates, and what seems to slowly dawn on Esther McCoy in her interview, is that modernism in Mexico's elite private sector was often practiced as a style, symbolic of sophistication and novelty but divorced from the progressive social philosophy at the heart of the movement (and clearly at work in Mexico's public sector, resulting in good housing, schools and hospitals for many of the less fortunate.) In McCoy's taped interview Artigas stressed that his ideas on distribution of functions, exposures, and siting had not changed at all between his "modern" and his late work, nor were his ideas significantly different from those of pre-modern (Colonial) architecture. In other words, it was only the envelope that had changed. I think what I'm detecting in the tone of McCoy's voice in the tapes is a gradual realization that perhaps Artigas, the icon of modernism, was not a Modernist and perhaps never was. The question needed to be asked: Was the modernist functionalism in his early work largely some kind of aesthetic apparatus designed to display the status of his clients?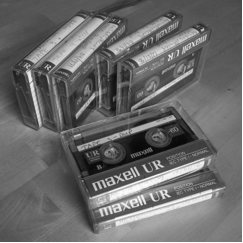 There is a certain drama to this scenario—the edifice of modernism crumbling before the eyes of the idealistic architecture critic. The drama is especially acute when McCoy lays eyes on the Artigas "Castle" for the first time. She rolls the tape and begins the peculiar soliloquy I've reprinted here in a tone of voice reminiscent of a news report from a disaster area. It is as if she is witnessing the demolition of an ideal, expressed paradoxically by the castle's solid stones and sturdy beams. She is taking audio notes, as she clearly is accustomed to doing as she tours a building for the first time, but the various specs she is listing—"A doorway, eight feet wide…", "wood paving fanning out…"—are colored by a slightly frantic tone of disbelief. Like the narration of Joseph Conrad's protagonist as he travels up the river into the Heart of Darkness, Esther McCoy's report sounds like that of a first witness to the horrors of a terrifying new Post-Modern world.